Team OTSFF/MOTUL, coming off a stellar 2019 Best in the Desert Racing Association season, is set to tackle another gruelling off-road campaign with a totally rebuilt 6100 Spec Trophy Class truck. As per tradition, Round 1 of the series kicks off at the storied Parker "425", January 23- 26, in Parker, Arizona.
"We're all very excited for the season to start. The Parker 425 is an event that I always look forward to, because it's an indicator of what kind of shape we're in, mentally, physically, and technically. I'm also pumped with the modifications made to the OTSFF/MOTUL 6100 truck. Last year we had a great truck. The results we achieved on the track spoke for themselves. But thanks to some of the new rule changes we have been able to build an even better one for this year," team owner/driver Andre Laurin noted.

The off-season meant that Laurin and Kerry King (navigator) could forget about racing for a while; but that option was not on the table for Adam Fitza (team manager/crew chief/builder). Over the past few months the off-road racing vehicles specialist has been busy stripping down and rebuilding the team's 2018 Ford Raptor truck. Capitalizing on some of the new rule changes implemented by the Best in the Desert Racing Association, Fitza created the baddest and meanest OTSFF/MOTUL 6100 Spec Trophy truck yet. Every single component of the truck was inspected with a fine-tooth comb, thoroughly cleaned or replaced. Nothing was left to chance. Whatever rule changes that could be applied in upping the ante, Fitza made sure he applied them.
"It's the same truck body and same chassis from last season, but thanks to the rule changes we're able to do a bigger motor now, so we opted for a 550-horsepower motor. This, of course, meant having to install a new Flowmaster exhaust system. We've also stepped up to bigger tires. We'll be using the 40-inch Toyo RT tires," Fitza said. "Furthermore, the new rules allow us to run an underdrive and a bigger transmission now. Our partner B&M supplied us with an awesome new Turbo 400 trannie. And we upgraded a bunch of other things, including the Fox shocks. Basically, anything I touched on this vehicle, anything that came off the truck, got either rebuilt or replaced. I truly believe the truck is better than it's ever been."

We at Team OTSFF/MOTUL hope to see you in Parker, Arizona, to share with us in the thrills, spills, and hair-raising excitement of off-road desert racing. We'd like to take this opportunity to thank everyone who has partnered with us, for their invaluable support and enthusiasm about our racing program.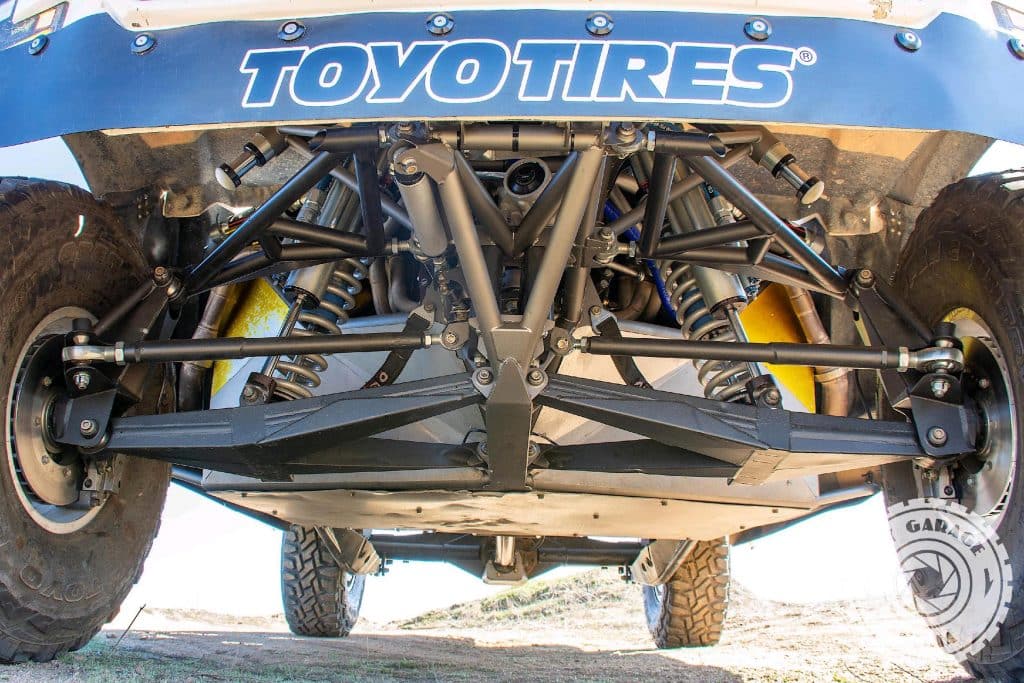 Located on the Colorado River just south of the Headgate Rock Dam and Moovalya Lake, across from the state of California, the Parker area has hosted one of the premier events on the annual off-road racing calendar since the early seventies. The event has endured name changes; changes in length; changes in promoters and sponsors; not to mention course changes due to an endangered species, dust storms and even snow. The race, now known as the Blue Water Resort & Casino Parker "425", is as big as ever and draws some of the top names in the field. Although the official history of off-road racing in Parker dates back to 1971, Mr. Joe Bush, one of the town's leading pioneers and entrepreneurs, staged a race way back in 1911 from Parker to Wenden, a distance of 61 miles. That was a long way to go back then.